Sporigerm® Gel Mani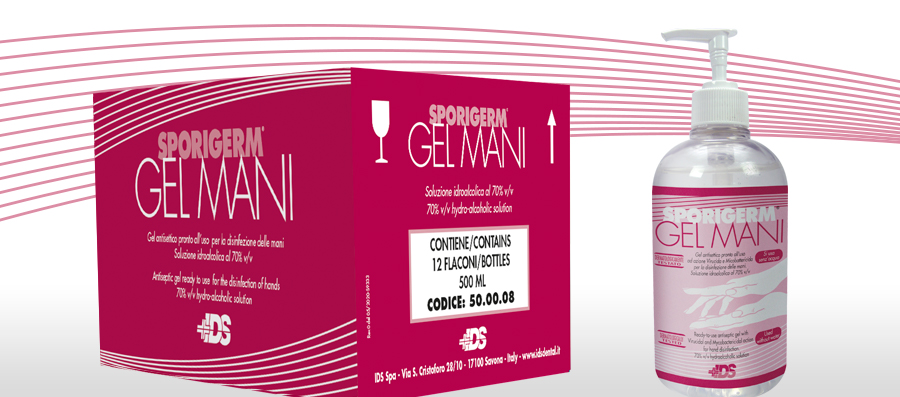 70% volume (62% weight) hydroalcoholic solution. No water needed.
INDICATIONS
Sporigerm® Gel Mani is a 70% alcohol gel (62% in weight)
particularly simple to use because it doesn't need water.
Its special formula leaves your hands fresh, clean and pleasantly perfumed.
It can be used on a daily basis on any occasion.

Sporigerm® Gel Mani shows and effective
and fast disinfectant action against Gram-positive
and Gram-negative bacteria, mycobacteria, viruses and fungi.

Sporigerm® Gel Mani can be used every time the hands need to be disinfected.
Before and after each contact with patients, in hospitals,
medical practices, wards, emergency rooms, laboratories.

Sporigerm® Gel Mani is used as a precautionary measure every time
we get in contact with potentially contaminated objects or people
and can be used instead of water and soap.

Sporigerm® Gel Mani is essential when going out or travelling
for its effectiveness and convenience.
DERMATOLOGICALLY TESTED.

APPLICATIONS
For the hygiene of hands in the absence of water at home,
in the food industry and in hospitals.

COMPOSITION
100,00 g of product contain:
Denaturated Ethyl Alcohol 62,0 g (egual to 70% v/v), coformulants, depurated water q.s. to 100,0 g

PRODUCT VALIDITY
Once opened the product can be stored for 24 months